CanYa​ ​Acquires​ ​Bountysource​ ​One​ ​Week​ ​Before​ ​Its​ ​ICO​ ​Closes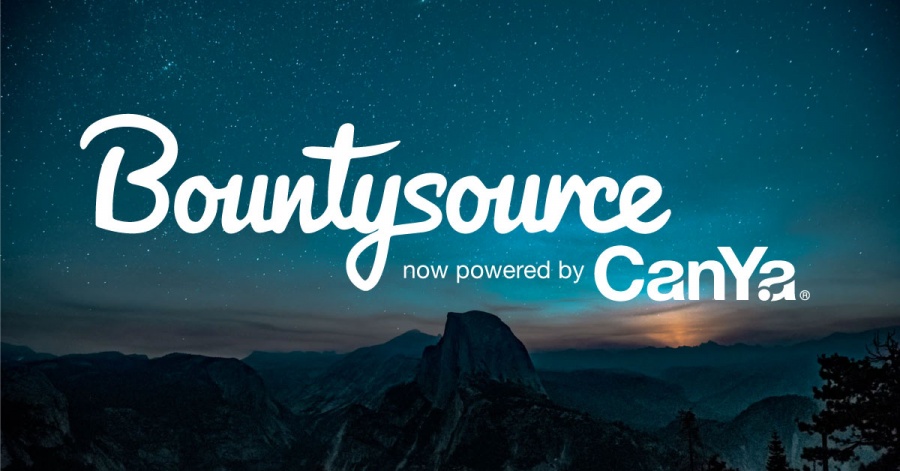 SAN​ ​FRANCISCO,​ ​CA​ ​&​ ​MELBOURNE,​ ​AUSTRALIA​ ​--​ ​December​ ​20,​ ​2017​--​ CanYa​​ ​has​ ​again raised​ ​the​ ​bar​ ​for​ ​ICOs​ ​following​ ​a​ ​major​ ​acquisition​ ​of​ Bountysource​​ ​and​ ​its​ ​passionate​ ​46,000 open-source​ ​developer​ ​community.​ ​In​ ​a​ ​world​ ​where​ ​most​ ​ICOs​ ​(and​ ​traded​ ​cryptocurrencies) have​ ​no​ ​product​ ​or​ ​user-base,​ ​this​ ​move​ ​is​ ​unprecedented.​ ​Bountysource​ ​directly​ ​aligns​ ​with CanYa's​ ​long​ ​term​ ​goals​ ​of​ ​being​ ​a​ ​peer-to-peer​ ​marketplace​ ​of​ ​services​ ​for​ ​digital​ ​nomads​ ​to work​ ​in​ ​their​ ​own​ ​time,​ ​on​ ​their​ ​own​ ​terms.
"The​ ​CanYa​ ​team​ ​are​ ​aggressively​ ​accelerating​ ​blockchain​ ​technology​ ​adoption​ ​in​ ​a​ ​meaningful way,​ ​and​ ​we​ ​see​ ​the​ ​acquisition​ ​of​ ​Bountysource​ ​as​ ​pivotal​ ​in​ ​growing​ ​fast​ ​and​ ​introducing more​ ​communities​ ​to​ ​cryptocurrencies." -- John-Paul​ ​Thorbjornsen,​ ​CEO,​ ​CanYa,
Bountysource​ ​is​ ​the​ ​world's​ ​first​ ​and​ ​largest​ ​peer-to-peer​ ​platform​ ​for​ ​open-source​ ​software developers​ ​to​ ​post​ ​and​ ​complete​ ​open-source​ ​bounties.​ ​Bountysource​ ​has​ ​a​ ​passionate community​ ​and​ ​throughout​ ​its​ ​13​ ​year​ ​old​ ​history​ ​has​ ​had​ ​a​ ​number​ ​of​ ​high​ ​profile​ ​teams including​ ​IBM,​ ​Facebook,​ ​Adobe,​ ​Ripple​ ​and​ ​Uber.​ ​Jihan​ ​Wu​ ​and​ ​Andreas​ ​Brekken,​ ​two​ ​widely known​ ​public​ ​figures​ ​in​ ​the​ ​cryptocurrency​ ​community,​ ​have​ ​also​ ​engaged​ ​with​ ​the​ ​platform. The​ ​Bountysource​ ​community​ ​has​ ​been​ ​growing​ ​completely​ ​organically​ ​by​ ​over​ ​1000​ ​new members​ ​every​ ​six​ ​weeks,​ ​which​ ​is​ ​reflective​ ​of​ ​the​ ​high​ ​growth​ ​of​ ​the​ ​open-source​ ​movement. The​ ​CanYa​ ​team​ ​are​ ​excited​ ​to​ ​see​ ​what​ ​the​ ​growth​ ​potential​ ​can​ ​be​ ​with​ ​a​ ​dedicated​ ​full​ ​time development​ ​and​ ​marketing​ ​team​ ​behind​ ​the​ ​project.
"This​ ​is​ ​the​ ​perfect​ ​timing​ ​to​ ​double-down​ ​on​ ​open-source​ ​software.​ ​With​ ​blockchain​ ​protocols soon​ ​to​ ​power​ ​the​ ​world,​ ​there​ ​is​ ​now​ ​a​ ​huge​ ​expectation​ ​that​ ​software​ ​be​ ​open​ ​and​ ​to​ ​be contributed​ ​to​ ​by​ ​a​ ​wide​ ​variety​ ​of​ ​users.​ ​Bountysource​ ​will​ ​be​ ​the​ ​portal​ ​and​ ​a​ ​major​ ​repository of​ ​open-source​ ​software." -- John-Paul​ ​Thorbjornsen,​ ​CEO,​ ​CanYa
Some​ ​of​ ​the​ ​initial​ ​plans​ ​for​ ​Bountysource​ ​will​ ​include​ ​the​ ​integration​ ​of​ ​numerous cryptocurrency​ ​payment​ ​options​ ​including​ ​the​ ​CanYaCoin,​ ​while​ ​also​ ​refreshing​ ​the​ ​user experience,​ ​reducing​ ​fees​ ​and​ ​adding​ ​a​ ​portal​ ​for​ ​ICOs​ ​and​ ​blockchain​ ​based​ ​platforms​ ​to​ ​add bounties​ ​for​ ​smart​ ​contracts.
As​ ​the​ ​CanYa​ ​CTO,​ ​Juan​ ​Suarez​ ​explains: "Smart​ ​contracts​ ​need​ ​more​ ​scrutiny​ ​than​ ​other​ ​types​ ​of​ ​code​ ​-​ ​as​ ​we've​ ​seen​ ​in​ ​2017​ ​already, exploits​ ​and​ ​vulnerabilities​ ​can​ ​be​ ​hiding​ ​in​ ​plain​ ​sight.​ ​Bountysource​ ​will​ ​be​ ​the​ ​best​ ​place​ ​for blockchain​ ​teams​ ​to​ ​get​ ​their​ ​smart​ ​contracts​ ​scrutinised​ ​before​ ​being​ ​pushed​ ​live."
True​ ​Global​ ​Ventures​ ​is​ ​an​ ​early​ ​seed​ ​investor​ ​in​ ​Bountysource​ ​and​ ​will​ ​stay​ ​on​ ​as​ ​a shareholder.​ ​Additional​ ​parties​ ​may​ ​be​ ​involved​ ​in​ ​the​ ​near​ ​future​ ​to​ ​further​ ​support​ ​the roadmap​ ​and​ ​vision​ ​of​ ​CanYa.​ ​Dusan​ ​Stojanovic,​ ​the​ ​Director​ ​and​ ​Founder​ ​of​ ​True​ ​Global Ventures​ ​adds​ ​his​ ​vision:
"I​ ​am​ ​delighted​ ​by​ ​having​ ​CanYa​ ​and​ ​its​ ​great​ ​team​ ​as​ ​a​ ​new​ ​partner​ ​in​ ​Bountysource.​ ​As​ ​more and​ ​more​ ​open​ ​source​ ​projects​ ​reach​ ​the​ ​market​ ​bounties​ ​have​ ​become​ ​an​ ​important​ ​source​ ​of income​ ​to​ ​digital​ ​nomads​ ​all​ ​over​ ​the​ ​world.​ ​TGV​ ​firmly​ ​believes​ ​in​ ​the​ ​power​ ​and​ ​knowledge​ ​of the​ ​open-source​ ​community,​ ​specifically​ ​for​ ​bounties​ ​in​ ​blockchain​ ​and​ ​ICO​ ​projects.​ ​The timing​ ​is​ ​perfect​ ​and​ ​CanYa​ ​will​ ​be​ ​an​ ​excellent​ ​partner​ ​to​ ​take​ ​Bountysource​ ​to​ ​the​ ​next​ ​level of​ ​acceptance​ ​and​ ​growth"
The​ ​CanYa​ ​ICO​​ ​is​ ​currently​ ​ongoing​ ​with​ ​$7m​ ​of​ ​its​ ​targeted​ ​$10m​ ​raised.​ ​CanYa​ ​will​ ​be​ ​the first​ ​ever​ ​Decentralised​ ​Autonomous​ ​Organisation​ ​for​ ​peer-to-peer​ ​services​ ​globally.​ ​By integrating​ ​a​ ​number​ ​of​ ​emerging​ ​decentralised​ ​technologies,​ ​CanYa​ ​will​ ​have​ ​no​ ​geographic or​ ​financial​ ​boundaries​ ​while​ ​offering​ ​a​ ​20x​ ​disruption​ ​in​ ​price​ ​when​ ​compared​ ​to​ ​traditional incumbents.​ ​Ultimately,​ ​CanYa​ ​will​ ​be​ ​powered​ ​completely​ ​by​ ​its​ ​users​ ​and​ ​their​ ​resources.
Links:
Contribute​ ​to​ ​the​ ​ICO:​ ​https://sale.canya.io/
Web:​ ​https://canya.io/
Twitter:​ ​https://twitter.com/canyacoin
Telegram:​ ​https://t.me/CanYaCommunity
ABOUT​ ​CANYA
CanYa​ ​is​ ​the​ ​world's​ ​first​ ​blockchain-powered​ ​marketplace​ ​of​ ​peer-to-peer​ ​services​ ​that​ ​helps​ ​people​ ​find, book​ ​and​ ​pay​ ​for​ ​digital​ ​services.​ ​The​ ​CanYaCoin​ ​powers​ ​the​ ​ecosystem​ ​and​ ​will​ ​help​ ​accelerate​ ​the mainstream​ ​adoption​ ​of​ ​cryptocurrency​ ​by​ ​providing​ ​a​ ​meaningful​ ​reason​ ​to​ ​spend​ ​cryptocurrencies​ ​on services.
ABOUT​ ​BOUNTYSOURCE
Bountysource​ ​is​ ​the​ ​first​ ​dedicated​ ​crowdfunding​ ​platform​ ​for​ ​open-source​ ​software.​ ​Created​ ​by developers,​ ​for​ ​developers,​ ​Bountysource​ ​is​ ​a​ ​community-friendly​ ​marketplace​ ​for​ ​funding​ ​open​ ​source software​ ​projects.​ ​Founded​ ​in​ ​2004​ ​in​ ​San​ ​Francisco,​ ​the​ ​company​ ​has​ ​been​ ​funded​ ​by​ ​international super​ ​angel​ ​fund​ ​True​ ​Global​ ​Ventures.