Cryptocurrency forecast: five "shadow" leaders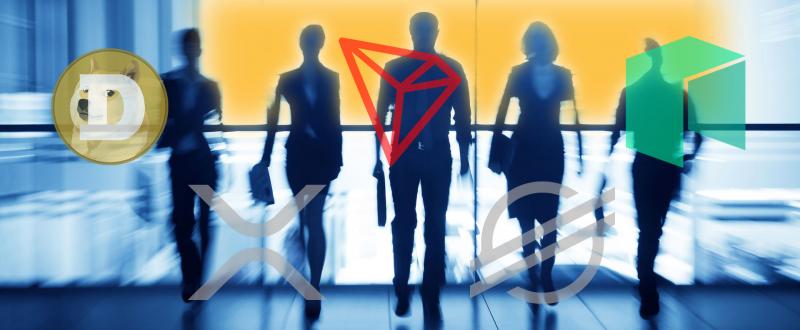 Capital investing brings income only when the cryptocurrency market is well analyzed. We will tell you about the coins, which with all their potential do not show profit yet, but can shoot out at any moment, and also make a forecast of cryptocurrencies, which are currently undervalued by the market.
Cryptocurrency forecast for 2021
The technology of selecting any promising coin begins with monitoring and analyzing the conditions of its existence in a certain market sector - the same principle is used to predict cryptocurrencies.
First of all, one should pay attention to the basis of blockchain technology, see how a cryptocurrency wallet is created and how transactions are made. Thus, an investor determines the advantages of investing and makes a forecast of cryptocurrency rates: how profitable it is to keep a coin at the current moment, how big is its speculative potential and how long it is possible to keep it relatively painlessly for a purse, as well as when it is possible to exit with a sale.
Second-level factors when investing in undervalued crypto-assets and determining the cryptocurrency outlook are, for example, the popularity of the coin in the blockchain community. An asset can be considered promising if its ticker is listed on all major exchanges, news about the coin is published by specialized blockchain publications, and analysts include an overview of the coin in their reports, mentioning it in forecasts and recommendations.
Don't forget about choosing a reliable wallet. The optimal combination is a cold wallet for storing coins and a "hot" one for reselling them. As practice shows, the largest number of money losses from the investor is associated with the wrong choice of purse.
In addition, we should not forget about two things that affect the prediction of the value of cryptocurrencies. It is security in terms of protection against hacking. This point is relevant for those currencies that operate on an alternative protocol - POW, they must have a branched network to reduce the probability of "51% attack".
Let's move on from theory to practice. The three promising currencies that are highly quoted by experts are Stellar (XLM), TRON (TRX) and Ripple (XRP), which we already know.
Stellar cryptocurrency forecast
The decentralized Stellar platform and its cryptocurrency XLM were created to facilitate international transfers. With their help, network users and legal entities can conduct necessary transactions without intermediaries. In addition, the developers of the coin have signed a number of partnership agreements with banks and financial companies, such as Tempo and ZED.
According to experts, XLM cryptocurrency is an improved version of Ripple. This coin is known for its transaction processing speed. Within the system, the money transfer goes directly to the recipient and reaches the target within 5 minutes. The ease of access to the blockchain transaction platform in countries where crypto is banned or where financial regulators have not decided on their attitude to alternative money is also appealing.
Blockchain start-ups also appreciate the XLM ecosystem. The fact is that here it is possible to launch an ICO campaign, which will be more profitable in terms of costs than on the same Ethereum. So far, these are isolated cases, and it is too early to talk about any established trend.
Disadvantages of this coin also has enough. They include an imperfect security system. Almost at the slightest suspicion of hacker attack the network hangs, and this factor is rather alarming than happy. The developers have much to think about.
The next point is the annual inflation rate, which is at least 1% per year. Add to this the coin's low yield when stored in a wallet, as well as limited opportunities for decentralized applications.
It immediately becomes clear why this coin is used by companies doing business in underdeveloped countries. A pleasant exception is IBM, cooperating with Stellar for more than three years.
TRON cryptocurrency forecast
The decentralized TRON platform is a kind of analog of the popular mobile services Google Pay and AppStore. Users of this platform can store entertainment content: games, movies, and music files. TRON's internal currency, TRX, is used to buy content.
Another unique advantage of this platform concerns developers of entertainment content. They can test mobile applications for free and promote their developments, attracting additional users to this promising platform.
With an ultra-low price of $0.01, TRX's capitalization exceeds $1 billion. The total issue will be 99.2 billion coins, with 66.6 billion in circulation now. The coin ranks 11th in terms of total parameters.
Three factors that will help the coin to shoot in the medium term: high capitalization on the background of an extremely low exchange rate value, popularity on the leading cryptocurrency exchanges and the acquisition of the BitTorrent service by the owners of the platform.
On the basis of this resource will be developed relatively safe decentralized methods of torrent distribution, excluding hidden mining and involving the payment of remuneration to the participants of the distribution.
Ripple (XRP) cryptocurrency forecast
In 2012, it issued 100 billion Ripple (XRP) coins, and this is the entire issue - no more coins will be issued. By the way, the originator of this cryptocurrency was Jed McCaleb, the creator of Stellar. There has long been intrigue about the potential sale of several billion XRP tokens that McCaleb received when he left the company, which could bring down the value of this coin. As of May 2021, however, McCaleb is unlikely to have much of an impact on XRP's value because he still has relatively few coins at his disposal.
Five years after its launch, Ripple has attracted the attention of investment bankers from Japan and South Korea, proving its value to any investment portfolio. RippleNet, an international interbank payment system, already includes more than 300 countries worldwide. Already this network can compete with the SWIFT system, recognized by all financial institutions, so it is included in any forecast of cryptocurrencies that may shoot up in the near future.
However, the U.S. Securities and Exchange Commission (SEC) lawsuit filed against Ripple in December 2020 makes the future of this coin rather unpredictable. Everything depends on the outcome of the lawsuit: both rapid growth and the closure of the project are possible.
Dogecoin (DOGE) cryptocurrency forecast
The most ambiguous and accordingly highly undervalued coin to pay attention to is Dogecoin (DOGE). This cryptocurrency is based on the existing cryptocurrency Luckycoin and is named after the internet meme Doge (smiling dog). Unlike other cryptocurrencies, Dogecoin has a fairly fast initial mining period, it is not perceived as a competitor for bitcoin or ether.
The coin was created by Portland-based programmer Billy Marcus. As with Luckycoin, the size of the reward for each block in Dogecoin is set at random. This was changed in March 2014, and the size of the reward became fixed. It was originally intended that the issuance size would be 100 billion, but it was later announced that the production of Dogecoins would be unlimited.
It is the lack of a limit on the issuance of new coins that has caused the price of Dogecoin to stagnate. This is also facilitated by a relatively simple mining algorithm compared to competitors, and the ability to earn without purchasing expensive equipment.
Another big problem of Dogecoin is that this cryptocurrency does not offer any new technologies. Now actively developing various ICOs, in which projects of payment systems, decentralized exchanges collect funds for their development. On their background, Deogecoin, of course, loses.
On the other hand, Doge has certain prospects. This is evidenced by the success achieved in several fundraising campaigns. Doge cryptocurrency is used by traders to simplify withdrawals from exchanges at a lower cost.
Neo (NEO) cryptocurrency forecast
This is a popular Chinese analogue of Ether, but in the process of rebranding the creators have significantly updated the project. Not only the name of the coin has changed, but now the settings, technical documentation and other things have been completely replaced.
At the same time, there is a restriction on coin issuance. The ecosystem of the currency is rapidly developing, and the developers are cooperating with other startups in the field of Blockchain technology.